Toyota Corolla: Power of Efficiency
The Toyota Corolla is a popular compact car that has been in production since the 1960s. It is known for its reliability, fuel efficiency, and affordability, making it a great choice for many drivers. Car shoppers purchased more than one million Toyota corolla models, making it the world's most popular car in 2022. Toyota consistently ranked among the most valuable car brands within the global automotive sector.
Some of the key features and benefits of the Toyota Corolla include:
Fuel efficiency: The Corolla is known for its excellent gas mileage at 32/41mpg, which can help save you money at the pump.
Safety features: The Corolla comes with a variety of safety features, including a pre-collision system, lane departure warning, and automatic high beams.
Comfort and Convenience: The Corolla is designed with driver and passenger comfort in mind. It has a spacious and comfortable interior, with plenty of legroom and headroom. It also comes with a variety of features to make driving more convenient, such as a touchscreen infotainment system and a rearview camera.
Easy to drive: The Corolla is easy to drive and maneuver, making it a great choice for city driving or commuting.
Reliability: The Corolla is known for its exceptional reliability and durability. Toyota has a reputation for producing vehicles that last a long time with proper maintenance, and the Corolla is no exception. Many drivers appreciate the peace of mind that comes with owning a reliable car.
Affordability: The Corolla is an affordable option for many drivers, making it accessible to a wide range of people. Its starting price is lower than many other cars in its class, and it offers good value for the money.
The 2023 Toyota Corolla Hybrid is saving even more fuel with 43/50 mpg and available with FWD or AWD Drivetrain.  AMCI Testing certifies Corolla Hybrid's AWD system to be more effective overall than Subaru Impreza and Mazda3 in winter road conditions.  There are also four unique grades to choose from, Hybrid LE, Hybrid SE, Hybrid SE Infrared and Hybrid XLE.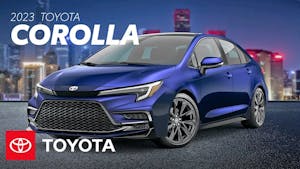 Visit Diehl Toyota of Butler today to pick out or build your new Toyota Corolla!
Back to Parent Page