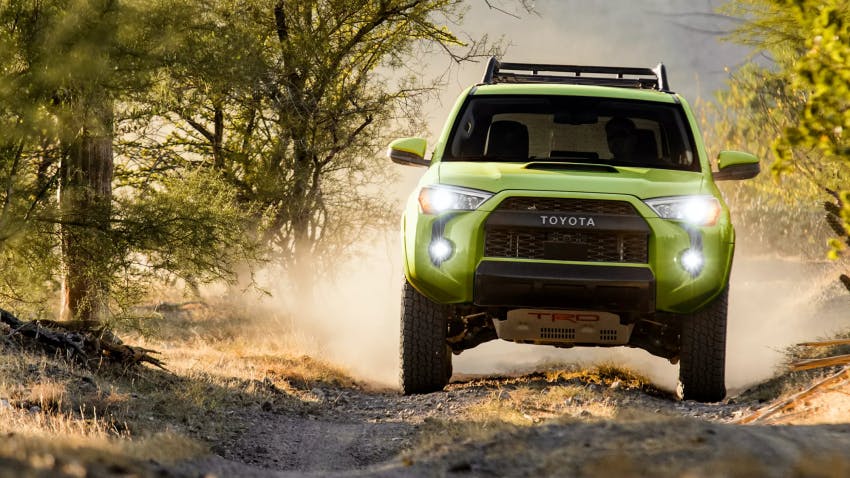 Exploring the Great Outdoors with the Toyota 4Runner
The Toyota 4Runner is a mid-size SUV known for its rugged off-road capability and durability. It has been a popular choice among adventure enthusiasts and outdoor enthusiasts since its introduction in 1984. Here are some key features and details about the Toyota 4Runner:
Performance: The 4Runner typically comes with a powerful 4.0-liter V6 engine that delivers excellent torque and horsepower. It provides sufficient power for both on-road and off-road driving. The engine is paired with a 5-speed automatic transmission, although some older models may have a 6-speed manual option.
Off-Road Capability: The 4Runner is built on a truck-based platform with a body-on-frame construction, which enhances its off-road capability and durability. It offers features like a part-time 4WD system, a two-speed transfer case, and an available locking rear differential. Some trims even include the Toyota's advanced off-road system known as "TRD Off-Road" or "TRD Pro," which includes features like Multi-Terrain Select, Crawl Control, and Kinetic Dynamic Suspension System (KDSS) for improved traction and control in challenging terrains.
Towing Capacity: The 4Runner is a capable towing vehicle, with a maximum towing capacity ranging from 5,000 to 5,000 pounds, depending on the trim level and equipment. This makes it suitable for hauling small to mid-sized trailers, boats, or other recreational vehicles.
Seating and Interior: The 4Runner typically offers seating for five to seven passengers, depending on the configuration. The interior is designed to be practical and versatile, with ample cargo space and numerous storage compartments. The rear seats can be folded down to create a flat loading surface, providing even more space for cargo.
Technology and Safety: The Toyota 4Runner is equipped with various technology and safety features, although the specifics may vary across different model years and trims. Common features include a touchscreen infotainment system, Bluetooth connectivity, USB ports, navigation system, available JBL premium audio system, and smartphone integration (e.g., Apple CarPlay, Android Auto). Safety features often include a rearview camera, Toyota Safety Sense (TSS-P) driver-assistance features, such as pre-collision braking, lane departure alert, adaptive cruise control, and automatic high beams.
Trim Levels: The 4Runner is typically available in multiple trim levels, which may vary by region and model year. Common trim levels include SR5, SR5 Premium, TRD Off-Road, TRD Off-Road Premium, Limited, and TRD Pro. The TRD Pro trim is the most off-road-focused variant, featuring specialized off-road suspension, all-terrain tires, skid plates, and unique exterior styling cues.
It's important to note that specific features and specifications may vary depending on the model year and the market in which the vehicle is sold. It's always advisable to consult the official Toyota website or a local dealership, Diehl Toyota of Butler, for the most accurate and up-to-date information.
Pick out your favorite style and trim level of the Toyota 4Runner here!
Back to Parent Page